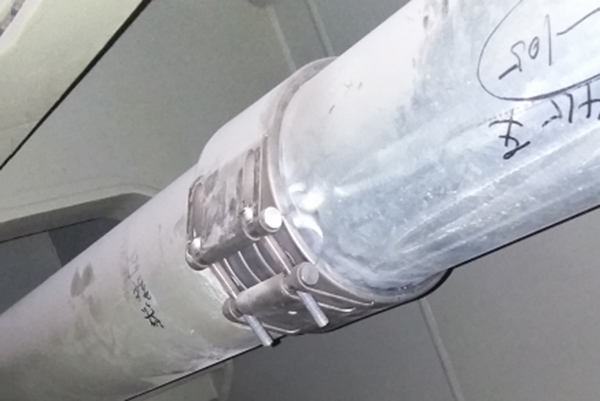 The GRIP-Z is a standard axial restrain coupling with reinforced internal structure so that can bear higher pressure. The double anchoring rings can bite into the two pipes and prevent them from pulling apart.
Suitable for pipes O.D φ30-φ168.3mm
Suitable for pipes material: Carbon steel, stainless steel, copper, cunifer, cast and ductile iron, GRP, most plastic and other material.
Pressure up to 64bar
GRIP-Z is Reinforced coupling of GRIP-G. Have the same performance of GRIP-G and with higher pressure. Two anchor rings have progressive anchoring effect, it is easy on pipes, as pressure increased, so does the gripping effect. GRIP-Z offers high levels of security by locking pipes together under pressure. GRIP-Z working pressure up to 64 bar. Temperature range: -30℃ up to 180℃, material in SS304, SS316 and SS316TI. It suitable for most applications in building construction, civil engineering, power, machinery component, shipbuilding, offshore industries, industrial process pipe work and others.
GRIP-Z Technical parameters
Pipe outside diameter
Clamping range
Working pressure
Product O.D.
Width
Distance between sealing slips
Setting gap between pipe ends
Torque rate
Bolt
O.D.
Min-Max
 
Φ D
B
C
without strip insert
with strip insert (Max)
(mm)
(In.)
(mm)
(bar)
(bar)
(mm)
 (mm)
 (mm)
(mm)
(mm)
(Nm)
M
30
1.181
29-31
32
64
47.5
61
17
3~5
10
20
M8×2
33.7
1.327
32-35
32
64
51.5
61
17
3~5
10
20
38
1.496
37-39
32
64
58.5
61
17
3~5
10
20
M8×2
42.4
1.669
41-43
32
64
62.8
61
17
3~5
10
20
44.5
1.752
44-45
32
64
64.9
61
17
3~5
10
20
48.3
1.902
47-49
32
64
68.7
61
17
3~5
10
20
54
2.126
53-55
30
64
74.5
76
33
5~10
15
20
M8×2
57
2.244
56-58
30
64
77.5
76
33
5~10
15
20
60.3
2.374
59-61
30
64
80.7
76
33
5~10
15
20
66.6
2.622
64-68
30
64
90.7
96
37
5~10
25
40
M10×2
70
2.756
68-71
25
64
94
96
37
5~10
25
40
73
2.874
72-74
25
64
97
96
37
5~10
25
40
76.1
2.996
75-77
25
64
100.2
96
37
5~10
25
40
79.5
3.130
78-81
25
64
103.6
96
37
5~10
25
40
84
3.307
83-85
25
64
108
96
37
5~10
25
40
88.9
3.500
88-90
25
64
113
96
37
5~10
25
40
100.6
3.961
99-102
22
60
125
96
37
5~10
25
40
101.6
4.000
100-103
22
60
125.7
96
37
5~10
25
40
104
4.094
103-105
22
60
128
96
37
5~10
25
40
108
4.252
106-109
22
60
132
96
37
5~10
25
40
114.3
4.500
113-116
22
50
138.4
96
37
5~10
25
40
127
5.000
126-128
22
50
153.5
111
54
5~10
35
60
M12×2
129
5.079
128-130
22
50
155.5
111
54
5~10
35
60
130.2
5.126
129-132
22
50
156.8
111
54
5~10
35
60
133
5.236
131-135
22
50
159.5
111
54
5~10
35
60
139.7
5.500
138-142
22
50
166.3
111
54
5~10
35
60
141.3
5.563
140-143
22
50
167.9
111
54
5~10
35
60
154
6.063
153-156
22
50
178.9
111
54
5~10
35
60
159
6.260
158-161
22
50
185.5
111
54
5~10
35
60
168.3
6.626
167-170
22
50
191.5
111
54
5~10
35
60
GRIP-Z Material Selection 
| | | | | | | |
| --- | --- | --- | --- | --- | --- | --- |
| Material / Components | V1 | V2 | V3 | V4 | V5 | V6 |
| Casing | AISI 304 | AISI 316L | AISI 316TI | | | AISI 304 |
| Bolts | AISI 316L | AISI 316L | AISI 316L | | | AISI 4135 |
| Bars | AISI 316L | AISI 316L | AISI 316L | | | AISI 4135 |
| Anchoring ring | AISI 301 | AISI 301 | AISI 301 | | | AISI 301 |
| Strip insert (optional) | AISI 301 | AISI 301 | AISI 301 | | | AISI 301 |
Material of rubber gasket 
| | | |
| --- | --- | --- |
| Material of seal | Media | Temperature range |
| EPDM | All quality of waters,waste water, air, solids and chemical products | -30℃ up to+120℃ |
| NBR | Water,gas, oil, fuel and other hydrocanbons | -30℃upto+120℃ |
| MVQ | High temperature liquid, oxygen, ozone, water and so on | -70℃ up to+260℃ |
| FPM/FKM | Ozone, oxygen, acids,gas, oil and fuel (only with strip insert) | 95℃up to+300℃ |
Benefits of GRIP Couplings
1. Universal use
Compatible with any traditional jointing system
Joins pipes of the same or dissimilar materials
Quick and simple repairs of damaged pipes without service interruptions
2.Reliable
Stress-free, flexible pipe joint
Compensates axial movement and angular deflection
Pressure-resistant and leak-proof even with inaccurate pipe assembly
3.Easy handling
Detachable and reusable
Maintenance free and trouble free
No time-consuming alignment and fitting work
Easy installation technology
4.Durable
Progressive sealing effect
Progressive anchoring effect
Corrosion resistant and temperature resistant
Good resistant to chemicals
Long service time
5.Space-saving
Compact design for space-saving installation of pipes
Light weight
Needs little space
6.Fast and Safe
Easy installation, no fire or explosion hazard during installation
No cost for protective measures
Absorbs vibration /oscillations